Top 10 Scholarships in Italy for International Students
Italy is one of the world's most beautiful and romantic countries, and Italian scholarship opportunities are plentiful for international students who want to study there. However, studying in Italy can be expensive. To help you find the best scholarship for your needs, we have created this list of top 10 scholarships in Italy for international students.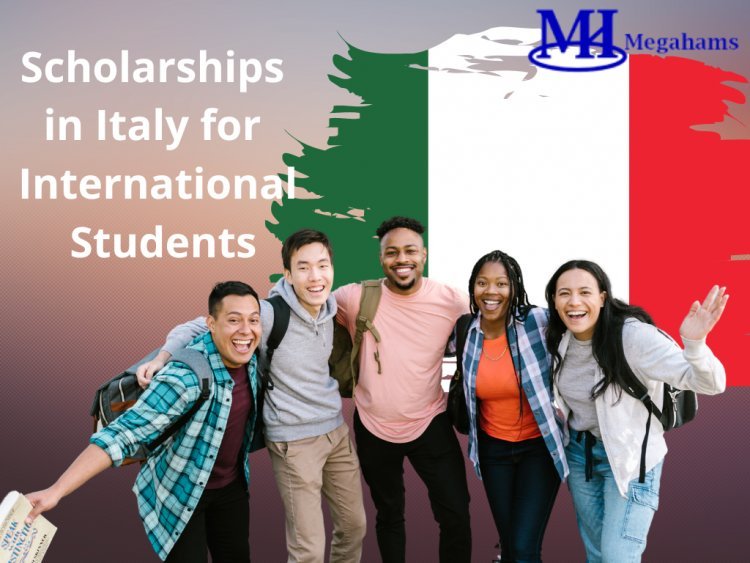 Obtaining a scholarship is one of the greatest methods to pay for your education in Italy, especially if you are an international student. We have compiled this list of the top 10 scholarships in Italy for international students to assist you in finding the finest scholarship for your needs. Many scholarships enable students from across the world pursue an Italian education.
While many scholarships in Italy are exclusively open to students from the country, others are still open to anybody, regardless of citizenship or place of residence. You may use this list of scholarships to select the one that best fits your requirements, way of life, and financial situation. Therefore, you shouldn't be prevented from achieving your desire by the costs of studying in one of the most well-liked study abroad locations in the globe.
All foreign students studying in Italy are qualified for the same financial aid schemes as domestic students, subject to financial need and academic qualifications. Government scholarships are available to international students at the national and regional levels. Additionally, certain Italian colleges provide programs for Italian scholarships to international students.
List of the Top 10 Scholarships in Italy for International Students
In this article, we've compiled a list of scholarships in Italy for international students to apply in their relevant fields in 2023/24 to make their study abroad dreams a reality.
Both foreigners and Italians living abroad are given scholarships by the Italian government to study there (IRE). The following types of courses are eligible for the scholarships: Ph.D. programs, Master's degrees (Laurea Magistrale 2° Ciclo), courses of higher education in the arts, music, and dance (AFAM), research projects conducted under the guidance of an academic (Progetti in co-tutela), and courses in Italian language and culture. The scholarship comprises a monthly stipend in addition to tuition costs and health insurance. It is only possible to apply for three-, six-, or nine-month scholarships.
Study scholarships are available from the University of Bologna to meritorious overseas students who intend to enroll in First Cycle (Bachelors), Second Cycle (Masters), or Single Cycle Degree Programs. Each study stipend is worth €11,059 and waives all tuition fees for one academic year.
See Also: University of Bologna NRRP Ph.D. International Scholarships
Students, including those from outside the European Union, who are enrolled full-time in Bachelor's, Master's, Single Cycle Master's, or Ph.D. degree programs at one of the Piedmont Universities (i.e., Politecnico di Torino, University of Torino, or University of Eastern Piedmont) may be eligible to apply for EDISU scholarships if they meet the competition's financial and merit requirements. Students who are enrolled in a bachelor's program part-time may apply. The value of the scholarship fluctuates based on a number of factors. Students who are not residents may also receive housing services.
Additionally, the University of Padua provides complete scholarships to exceptionally gifted candidates interested in pursuing a first- or second-cycle degree at Padova that is taught in English. The scholarship comes with a €8,000 living expense allocation as well as free tuition.
The University of Pavia will grant 150 tuition fee exemptions, exempting all foreign students enrolled in specific degree programs during the academic year 2022–2023, in an effort to increase the number of international students and promote the development of a more globally connected community.
International students enrolled in any Bocconi University Bachelor's or Master's program are eligible for merit-based scholarships. For the Bachelor's Program and the Master of Science Program, respectively, the scholarship offers a partial to full tuition remission valued up to €12,000 and €14,000 annually.
The most gifted foreign applicants accepted into a Master of Science degree are given a number of merit-based scholarships each year by Politecnico di Milano. The sole cost to students who receive scholarships is an administrative charge of roughly €200. In addition to the tuition price remission, scholarships from €5.000 to €10.000 annually may also be given out.
International students can apply for scholarships from the Politecnico di Torino to study in disciplines including engineering and architecture.
To encourage international students' access to programs, Università Cattolica annually promotes the UCSC International Scholarship as a tuition cost discount. About 25% of the total cost is covered by the discount.
Final Thoughts
Check out this thorough list of financing choices for Italian universities, which covers the best regional, national, institutional, private, and government scholarships and fellowships, if you're wondering how to get a college scholarship for your studies in Italy. You may apply for university scholarships in Italy, including funding for graduating seniors, grants for undergrads, awards for grads, awards for postgrads, and more.
Find the best scholarship in Italy for a variety of academic degrees, such as business and management, engineering, law, and medical school, as well as awards for the performing arts, music, or sports. You may use these scholarships to help pay for your international study. Italy is a beautiful and inviting member of the European Union, making it a popular choice for foreign students who wish to continue their studies abroad. Italy offers undergraduate and graduate scholarships to local, European, and international students from other continents, such as Africa and Asia.