Netherlands Self-Employment Visa and Startup Visa for Foreign Nationals
Do you qualify for a startup visa in the Netherlands? How do I get a startup visa for the Netherlands? What paperwork is needed, and how do I create a business plan? Continue reading to get all of your questions answered. The steps, prerequisites, and frequently asked questions for obtaining a Netherlands visa for startups and entrepreneurs are all covered in this article.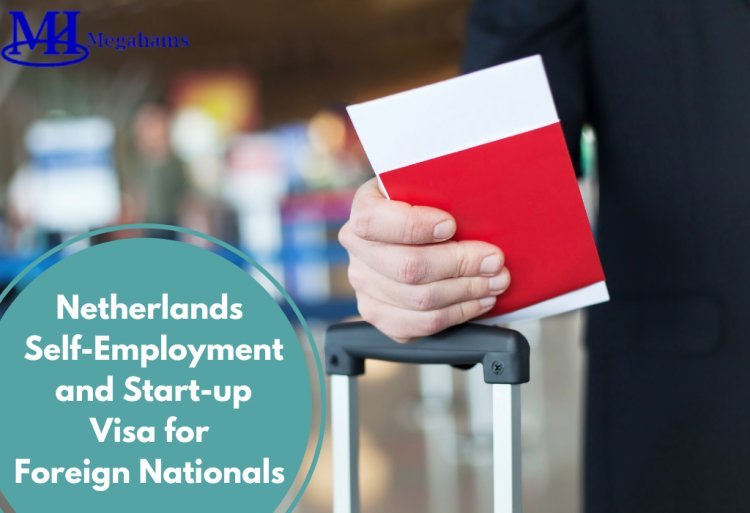 The Netherlands is renowned for having top-notch start-up infrastructure, breathtaking scenery, and high living standards. It is hardly surprising that businesspeople from all over the world are moving here. The Dutch government encourages business owners and offers a self-employment visa that enables them to reside and conduct independent business there. Learn more about it now.
If you want to move to the Netherlands to start your own business or work as a freelancer, you must apply for a Netherlands self-employment visa. The Dutch government has given some business owners a year to prepare before going into business. For this, a Netherlands Startup visa is used.
Overview of the Netherlands Self-Employment Visa?
A Netherlands self-employment visa is a type of residence permit that permits independent work. There are conditions that every application for a Dutch work visa must meet. Then, there are additional limitations for each type of work visa. The self-employment visa has stricter guidelines than any other kind.
Requirements for a Netherlands Self-Employments Visa
You must first show that your products are unique and essential to the Dutch economy. The Netherlands Enterprise Agency (RVO) gauges this using a point-based system.
The system measures:
Your personal experience (education, work experience, entrepreneurship)
Your business plan (the service/product, market analysis, financing, organization, price)
The value adds to the Netherlands (employment opportunities, investments, innovation)
The maximum possible score is 300. For 90 points, each category must have a minimum of 30 points. This scoring system does not apply to you if you are a long-term resident of the EC of another EU member or if you have Turkish nationality. Other requirements for obtaining an independent contractor work visa in the Netherlands include the following:
You must be listed in the Chamber of Commerce's Trade Register (KvK).
You possess every license required to carry out your work or trade.
You'll be able to generate enough money from your endeavors.
For independent contractors (freelancers): You must have at least one commission that you will work on in the Netherlands.
If you operate a small healthcare business, you are listed in the BIG register (Individual Healthcare Professions).

For the Dutch-Japanese Trade Treaty and the Dutch-American Friendship Treaty:

You must conduct business between the Netherlands and the US or Japan, be of American or Japanese nationality, and invest or invest a sizable sum of money.
How to Apply for a Netherlands Self-Employment Visa?
How you apply for a self-employment visa in the Netherlands depends on your nationality. Several nations must get an MVV before applying for a Dutch residence visa for self-employment (provisional residence permit). You must apply to your country's Dutch embassy or consulate if you need an MVV.
If an MVV is not required, you can apply for your Dutch residence visa for self-employment at the IND (Immigration and Naturalisation Service) after arriving in the Netherlands. The Dutch government is aware that new firms frequently do not meet self-employment visa points requirements. They have offered to apply for a year of training in the Netherlands to start their firm. In this case, the candidate must apply for a Netherlands Startup visa.
Overview of the Netherlands Startup Visa?
The Dutch government introduced the startup visa, technically known as the "residence permit for start-up entrepreneurs," in January 2015 to attract international businesspeople. With a one-year visa, ambitious foreigners can start cutting-edge firms in one of the most competitive markets on the planet.
The Netherlands Startup visa makes it simpler for prospective business owners to launch their enterprises there. A one-year Dutch residence permit permits the holder to operate in the Netherlands with a "facilitator" to get his or her business ready to satisfy the requirements for a self-employment visa. A beginning entrepreneur must be actively involved in the business; they cannot only be a financier or stakeholder.
Before submitting your application to the IND, you must first satisfy the startup visa's general and unique requirements (see below). Once you get your residence permit, you can move to the Netherlands and grow your business. According to the visa requirements, a knowledgeable facilitator assists foreign citizens working in the Netherlands on their startup. The mentor system's objective is to give the startup the best opportunity to develop into a mature business that benefits both the entrepreneur and the Dutch economy.
What is a facilitator?
The facilitator is an experienced business mentor organization that provides guidance and support while you are developing your startup in the Netherlands. The support can come in various forms, depending on the startup's needs. It can include investment acquisition, marketing, assisting with operational management, research, and providing business contacts.
You must find and work with a facilitator recognized by the Netherlands Enterprise Agency (RVO) before applying for the startup visa. This guarantees the facilitator's dependability, financial stability, and experience mentoring start-up enterprises. When you choose a mentor, you must formally declare your cooperation by having them sign a contract.
However, there are some conditions a facilitator has to meet:
Experience in innovative mentoring startups
They must be financially stable
They cannot have a majority interest in the startup
They cannot be a family member of the entrepreneur. This applies to the third degree: child, parent, grandparent, aunt/uncle.
They must be registered in the Trade Register of the Chamber of Commerce.
If a person satisfies the requirements to be a facilitator for a startup visa, the Netherlands Enterprise Agency (RVO) makes the determination. Additionally, they have a list of authorized facilitators. The facilitator may refer the entrepreneur to immigration services after the one-year startup visa expires to support their application for a Dutch self-employment visa.
Dutch Startup Visa Business Plan
A new business owner must outline their step-by-step plan for turning their concept into a profitable enterprise. Additionally, this informs the government about the nature of the business before granting a Netherlands startup visa.
A step-by-step for a Netherlands startup visa include:
Information regarding the organization. This includes the structure of the organization; the purpose of the company, roles and tasks; the company's legal form; the personnel.
A description on how the plans and activities that you will undertake to set up the company.
A description of the innovative product or service you will be providing.
What makes a product innovative?
To be eligible for the visa, applicants must prove their product or service is innovative in the Netherlands by meeting one of the following three conditions:
The service or product is new in the Netherlands.
The business involves a new technology for production, distribution, or marketing.
The business involves a new organizational or procedural approach.
New technology, social responsibility, an inventive strategy for energy conservation, social innovation, and clever modifications for cross-sector applications are other characteristics that might serve to characterize a startup as innovative. The RVO website contains more details on what makes a firm innovative.
What are sufficient financial resources?
To be eligible for the startup residence permit, an ex-pat entrepreneur must prove they have sufficient financial resources (such as savings) to live, work and set up their business in the Netherlands. You can prove you have sufficient funds by:
Provide a bank statement showing you have enough money in your bank account. The amount must meet the minimum income for self-employed in the Netherlands, as shown on the IND income requirements webpage.
Showing that another person, such as the facilitator, is willing and able to fund your residence in the Netherlands by providing you with either money or resources for the entire (one-year) duration of the permit.
It is impossible to rely on public funding, such as welfare payments or unemployment benefits, as your financial resource.
How to Apply for a Netherlands Startup Visa?
You can submit an application for your Netherlands startup visa at the IND if you are a citizen of a nation that does not require an MVV to visit the Netherlands. Even though your country typically requires one, you might not need to apply for an MVV if you are already in the Netherlands with a short-stay visa to launch a business. You can apply for a startup visa directly to the IND if you meet all the other requirements.
You can also authorize your facilitator to apply on your behalf.
However, if you are abroad and your country requires an MVV, you can simultaneously apply for both the MVV and the residence permit. You can do this at the Dutch embassy/consulate in your country.
If you require an MVV, your facilitator cannot apply for the startup visa on your behalf.
You must submit a complete application form and the required documents when you apply (and copies for each of them.) Your paperwork must be in one of these four languages: English, French, Dutch, or German. You must hire a certified Dutch translator to translate them if they are not.