How to Apply for a Work Permit in Australia - Complete Guide for Foreigners
Do you want to work in Australia but are a citizen of another country? However, you must get a work visa in Australia that is appropriate for the job you want to do there. Australia's economy is strong, making it a popular choice for qualified foreigners looking for career possibilities abroad.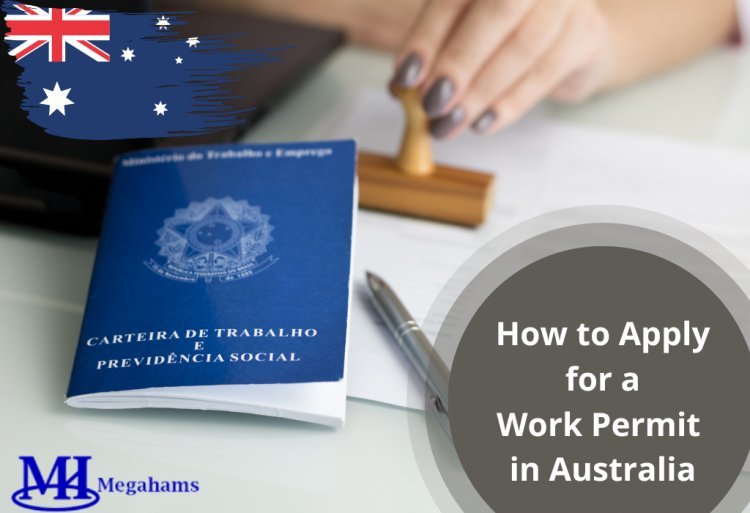 Depending on your circumstances, Australia offers several work permit visas. For example, Australia provides work permits for skilled employees, highly specialized workers, and others. In addition, foreigners with financial resources and business expertise may be eligible for Australia's self-employment visa. They are referred to as business talent visas if they satisfy the prerequisites.
Additionally, getting a few work permit visas in Australia can result in a person immigrating and becoming a resident there for a while or permanently, together with any qualified family members. However, we go into great length regarding work permits in Australia in this article, including the many categories, eligibility conditions, application process, and other crucial facts you should be aware of.
Understanding Work Permits in Australia
A work permit in Australia, otherwise known as a work visa, is authorization in the form of an official document to take employment in the country as a citizen of a foreign country or immigrant. Every employee needs to obtain a work permit in Australia to work and live in the country legally.
Additionally, the Commonwealth nation grants work permits and employment-based visas for various categories of professionals and experts traveling to Australia for professional reasons. Additionally, it depends on whether you possess the abilities and credentials that the nation thinks necessary. The Australian government may contact you to apply for a skilled work permit visa through SkillSelect. A state or territory government submitted them for a skilled work permit visa, or an employer recommended them for a skilled visa.
SkillSelect is an online system for the immigration of workers and trades or business people to Australia. Its operation is overseen by the Australian Government Department of Immigration and Border Protection. It typically assists you in finding and applying for a job in Australia. Skilled workers and business people interested in migrating to Australia can be considered for a skilled visa by submitting an Expression of Interest (EOI) through SkillSelect. An EOI indicates that you would like to be considered for a skilled visa. An EOI is not a visa application.
Types of Work Permits in Australia
However, Australia offers a variety of employment-based visas and work permits for different types of professional workers seeking to move to the country for job-related purposes. Here are some of the work visas for skilled workers:
Employer Nomination Scheme (ENS) visa: An Australian employer nominates a skilled foreign worker to live and work in the country.
Regional Sponsored Migration Scheme (RSMS) visa: The employer nominates the skilled worker for this visa. It allows foreigners to live and work permanently in regional Australia.
Skilled Independent visa: This visa is for invited workers and citizens of New Zealand who have skills that the country deems to need to live and work anywhere in the country permanently.
Skilled Nominated visa: Foreign skilled workers nominated by their employers to live and work as permanent residents in Australia.
Temporary Work (Short Stay Specialist) visa: This allows a foreign worker to take short-term, highly specialized work in Australia.
Temporary Skilled Shortage visa: This is issued when an employer nominates and sponsors a suitable foreign skilled worker for a temporary job in the country when an Australian resident is not available for the position.
Skilled Regional (Professional) visa: This is a temporary visa for skilled foreign workers who want to live and work in regional Australia.
Temporary Work (International Relations) visa: This is a temporary work permit in Australia for foreigners whose employment deems to improve the country's international relations.
Distinguished Talent visa: This is a permanent visa for foreigners with an international recognition record of outstanding achievements in their careers or other areas.
Business Talent (Permanent) visa: This visa is for establishing or developing a new or existing business in Australia.
Eligibility Requirements for a Work Permit in Australia
Each Australian work permit visa, however, has specific criteria. As a result, the conditions and type of work visa you apply for determine your eligibility for a work permit in Australia. You may be eligible for various visas depending on your employment and the length of time you will work for your Australian employer.
Additionally, ENS visa holders must demonstrate through a skills assessment that they have the qualifications for the position. The position must also be included on the pertinent list of qualified vocations. A formal nomination from an Australian employer is also required.
However, the main eligibility requirements for a work permit in Australia include the following:
A job offer from an employer whose company has a sponsorship agreement with the Australian Department of Home Affairs
Demonstrate competent English. Applicants over the age of 18 will have to take IELTS Tests
Applicants must be under the age of 45 years
Must provide academic qualifications or degrees
Complete medical exams and radiological
Provide police clearance
Provide a contract of employment
How to Apply for Work Permit in Australia
There are two methods, or categories, for applying for work permits in Australia: sponsored visas and skilled visas. You must fill out an online Expression of Intent (EOI) on SkillSet if you are a skilled worker and your visa requires an official invitation to apply.
Moreover, SkillSet will receive and process applications from skilled candidates. If their application gets accepted, they will receive points based on certain factors such as skills, age, education or qualification, English language proficiency, etc. You will be nominated for a skilled visa by an Australian state or territory government or employer.
Furthermore, note that an Expression of Intent (EOI) indicates that you would like to be considered for a skilled visa. An EOI is not a visa application. However, on the other hand, you can apply for most visas online on the Australian Government Department of Home Affairs website via ImmiAccount.
Sponsored visas require the Australian employer to support the foreign worker for the work permit visa application. The Australian Department of Home Affairs must approve the employer as an eligible sponsor. Also, the employer will have a nomination transaction reference number (TRN) or employer ID for the foreign employee to start the online application.
Bottom Line
In conclusion, the work visas stated in this article's conclusion will enable you to bring qualifying family members to Australia. This might be accomplished by sponsoring them or by requesting a subsequent entrance visa on their behalf. Most visas—though not all—allow foreign workers to live and work permanently in Australia. As a result, you should be aware that you might also require a permanent visa. Additionally, acquiring permanent residency has its advantages. These advantages include the right to purchase property, eligibility for the national health program, employment in New Zealand, etc.