Best Provinces for Jobs for Doctors in Canada
Are you a doctor looking for Jobs for Doctors in Canada? Then you've come to the right place! In this blog post, we'll be looking at the best provinces in Canada for Jobs for Doctors. We'll discuss the job outlook for physicians and surgeons, salary potential, and the cost of living in each province, so that you can make an informed decision about where to pursue your career in medicine.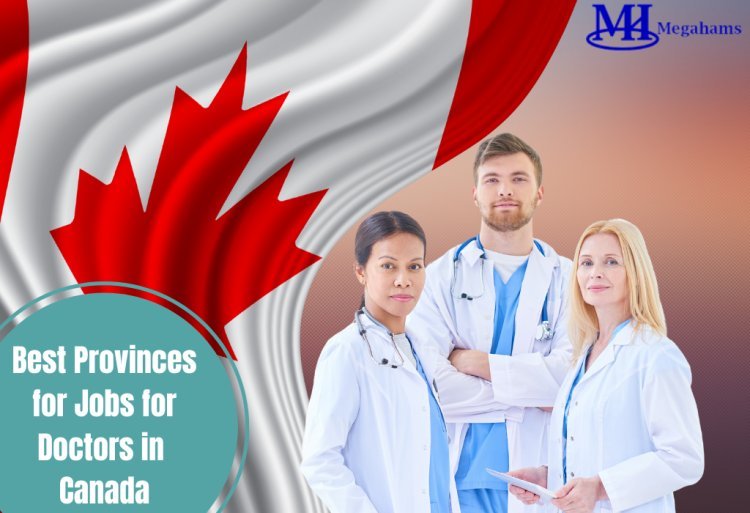 Canada is in need of trained medical doctors. One of the most sought-after professions in Canada is medicine. A doctor in Canada has a high income because the government primarily funds the country's health care system. Additionally, doctors receive a ton of benefits, and numerous government agencies defend the rights of their employees.
Canada is experiencing a doctor shortage due to the COVID-19 epidemic, the nation's constantly expanding population, and the nation's rising medical demands. As a result, some areas have a particularly high need for doctors and even have immigration channels for expediting their entry into the nation. There are hundreds of employment for doctors in Canada due to the great demand.
Particularly for applicants from underdeveloped nations, remaining in Canada has several benefits and advantages. Living in Canada has several benefits, including a high standard of living, greater job prospects and compensation, and world-class education. Talented medical experts are increasingly vying for positions in Canada due to the surge in demand for licensed doctors and nurses.
Knowing which Canadian provinces are best for medical professionals is crucial because the Canadian immigration authorities divide their immigration according to provinces.
What are the Best Provinces for Jobs for Doctors in Canada?
One of the professions with the highest demand in Canada is medicine. However, certain provinces typically require doctors more than others.
We've compiled a list of the provinces with the most doctor jobs in Canada to assist you figure out which provinces and territories offer the most prospects for doctors and how to use your chosen province to help increase your chances of obtaining permanent residence in Canada.
Nova Scotia
International medical professionals are in great demand in Nova Scotia. In fact, there is a particular Physicians stream and Labour Market Priorities for the Physicians Stream in the province's Provincial Nominee Program (PNP). With the help of this stream, family doctors and specialists have a much better chance of receiving a provincial nomination in Nova Scotia, which would grant them legal permanent residency in Canada.
Average salary for doctors in Nova Scotia
The average pay for doctors in Nova Scotia is about CA$231,055 per year, however this obviously varies by specialization, skill level, and area.
Newfoundland and Labrador
Medical professionals are in exceptionally high demand in the Atlantic Provinces of Newfoundland and Labrador, with family physicians and specialists frequently appearing on the province's list of most sought-after professions.
One of Canada's provinces that is covered by the Atlantic Immigration Pilot is Newfoundland and Labrador (AIP). A PNP or permanent residency in one of Canada's four Atlantic provinces—Newfoundland and Labrador, Prince Edward Island, New Brunswick, or Nova Scotia—can be expedited for doctors with at least a year of professional experience under the AIP.
But because medical professionals are in high demand in Newfoundland and Labrador, you might be qualified for a provincial nomination.
Average salary for doctors in Newfoundland and Labrador
In Newfoundland and Labrador, the average salary for a doctor in 2022 was $234,549.
If you're unsure which program is appropriate for you or which eligibility conditions you still need to satisfy, you should consult a Registered Canadian Immigration Consultant (RCIC) to help determine which programs you're most eligible for and navigate Immigration Refugees and Citizenship Canada (IRCC) application procedures.
New Brunswick
This coastal province is one of Canada's other Atlantic provinces and shares a border with the US. New Brunswick is continuously in need of physicians and other healthcare professionals because the province has a significant amount of farmland and industries.
As a result, experienced physicians and recent medical school graduates seeking for entry-level work have access to thousands of wonderful prospects. International doctors have a decent probability of receiving a provincial nomination through the New Brunswick PNP because they are a highly sought-after profession in New Brunswick.
Average slary for doctors in New Brunswick
New Brunswick has one of the highest doctor salaries in Canada, which is now set at CA$287 707, due to the state's high demand for medical professionals.
Prince Edward Island
Despite having a small geographical mass of 5 660 km2, Prince Edward Island (PEI), one of the three maritime provinces of Canada, has a very dense population. The province's two main businesses, farming and fishing, both rely on manual labor that can be hazardous. Specialized and family physicians are therefore in great demand.
Doctors are regarded as highly skilled professionals. So, through the PEI PNP's Skilled Worker in Prince Edward Island Stream, doctors can immigrate to PEI.
Average slary for doctors in PEI
In PEI, doctors make an average yearly salary of CA$236 262. Nevertheless, depending on your area of specialization, this could alter.
Saskatchewan
Saskatchewan, one of the larger provinces in central Canada, is expanding as a result of Saskatoon's expanding industrial hub status and the province's long history of agriculture and animal production. As a result, there is a growing need for physicians. International doctors are increasingly in demand for jobs in Saskatchewan.
Doctors can also apply for the Saskatchewan Immigrant Nominee Program due to the great need for them (SINP). Through the Express Entry system, this program provides qualifying applicants with permanent residency in Canada.
Average slary for doctors in Saskatchewan
Although Saskatchewan has a low cost of living, doctors are extremely highly compensated. The average doctor in Saskatchewan earns $236 262 per year.
Yukon
Yukon is a rugged, rural, hilly, and remote region, and because of its extensive mining activity, there is a constant need for top-notch medical professionals. General practitioners and family doctors consequently consistently place highly on Yukon's list of in-demand professions.
There are numerous options for doctors to immigrate to Yukon due to the province's high demand for medical professionals. One of the main options is the Yukon PNP's Skilled Worker Program, where the Canadian government specifically seeks out experts who have received a job offer in Yukon.
Average slary for doctors in Yukon
Yukon has a strong demand for doctors, thus they earn an average salary of $262 458 per year.
British Columbia
British Columbia (BC) is one of the most populous and active provinces in Canada. Medical professionals who want to see Canada's stunning cities to the fullest frequently visit this province. The University of British Columbia (UBC) Faculty of Medicine, one of Canada's top medical institutions, is located in British Columbia, making it a great location for entry-level jobs.
Due to the province's dense population and extensive farming industry, doctors are in great demand in BC. As a result, BC has a particular PNP pilot for medical specialists, including as family doctors, specialized physicians, and nurse practitioners.
Average salary for doctors in British Columbia
Currently, the average doctor in British Columbia makes $251 246 annually.
Northwest Territories
The Northwest Territories is one of Canada's largest and least inhabited provinces and territories. It is enormous, rural, and inaccessible. However, much of the Northwest Territories' economy, like that of Yukon, depends on labor-intensive manual labor, such as mining, therefore there is a persistently high need for skilled physicians.
Due to this demand, the Northwest Territories' Skilled Worker Program permits doctors to get a provincial nomination.
Average salary for doctors in Northwest Territories
The Economic Research Institute estimates that a doctor in the Northwest Territories makes $271,489 a year on average.
FAQs
Furthermore, here are some of the most frequently asked questions on the best provinces for jobs for doctors in Canada.
Can a foreigner be a doctor in Canada?
If you are a licensed medical practitioner who had your training abroad, you may practice in Canada provided that:
A Medical council recognizes your medical degree.
You pass the licensure exam required by the Canadian province you want to work in.
To take the licensure exam, you can apply to the Medical College of Canada Evaluation Examination (MCEE).
Is it easy for doctors to immigrate to Canada?
If you want to come to Canada as a doctor, you would probably have a decent chance of success because it's one of the most in-demand professions there. But if you want to stay in Canada permanently, you can submit an application through the IRCC, and you can start working there if you have a work permit.
How many hours do doctors work in Canada?
In Canada, general practitioners often put in 35 to 40 hours a week, though this might vary depending on the demands of your particular medical practice.
What are the best medical schools in Canada?
Canada is famous for having some of the best medical schools in the world
Final Thoughts
In conclusion, now that you know the following:
Why doctors are one of the major occupations in demand in Canada;
the average doctor salary in Canada;
which provinces provide the best opportunities for international doctors and;
how to get your visa or permanent residence through these opportunities.
However, the procedure can be challenging and intimidating, just like with any visa application. In order to enhance your chances of having your application granted, it is always a good idea to seek out expert assistance. They can help you navigate the procedure.