Macquarie University Sports Scholarship for International Students in Australia
Applications for the Macquarie University Sports Scholarship are currently open to international students who are outstanding athletes to develop their sport potential while studying in the Australian university.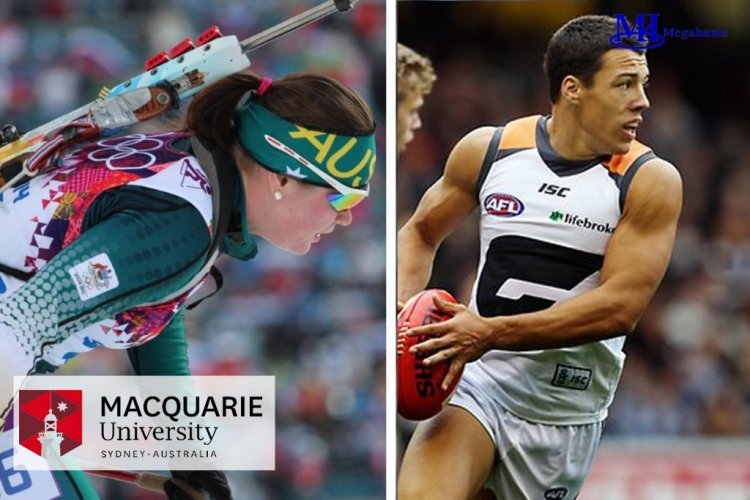 With the motive of supporting high-achieving international applicants, Macquarie University is implementing the Sports Scholarship for the academic year 2022-23. The program is accessible to international applicants who wish to undertake a bachelor's degree coursework at a university in Australia. It's a great offer to get financial support for bachelor's studies in Australia. However, continue reading to learn more about this exciting scholarship program.
Meanwhile, in this article, we will explain in full detail everything you need to know about the Macquarie University Sports Scholarship. From the eligibility requirements to the scholarship benefits, how to apply, and any other important information you need to know about the scholarship program.
About the Macquarie University Sports Scholarship
Macquarie University Sports Scholarship and Elite Athlete Performers scheme are focused on assisting athletes in their desire to combine high-performance sports involvement with tertiary education. Macquarie University is a member of the Elite Athlete Friendly University (EAFU) network. This enables the university's sports scholars to have access to a high level of support — assisting them to achieve sporting and academic success during their time at university.
The university understands the challenges students face in pursuing both academic and sporting goals simultaneously. Therefore, the Sports Scholarship program provides students with the tools and support services to balance success in both areas. In 2020, Macquarie University offered elite athlete support to more than 250 students either entering or continuing a course at the University. A total of 200 national and state-level athletes were awarded Macquarie University 'Elite' or 'Emerging' sports scholarships.
Macquarie University Sports Scholarships exhibit a diverse range of sports, including the following:
equestrian
floorball
martial arts
sailing
wakeboarding
several full-time professional sports.
About the University
Founded in 1964, Macquarie University is a public research university based in Sydney, Australia. It was the third university to be established in the metropolitan area of Sydney. The university offers various degree programs for the students. Moreover, the university is renowned for its first-class facilities, highly skilled graduates, and excellence in interdisciplinary research and teaching. Furthermore, they offer an education in one of the top one percent of universities in the world, giving you an internationally recognized and respected degree.
Ranked among the top 2 percent of universities in the world, Macquarie University is considered one of Australia's best universities, producing graduates that are among the most sought-after professionals in the world. Furthermore, with a strong tradition of innovation and exploration, Macquarie continues to break new ground with research ranked in the top one percent in the world.
Scholarship Summary
Moreover, here's an overview of the Macquarie University Sports Scholarship.
Scholarship Sponsor(s):
Macquarie University, Australia
Host Institution(s):
Macquarie University, Australia
Study Level:
Undergraduate
Field(s) of Study:
Pursuing an undergraduate degree in any subject area
Scholarship Value:
See the scholarship benefits section below for details
Number of Awards:
Not specified
Target Group:
International students
Scholarship Benefits
Furthermore, Macquarie University will provide the Sports Scholarship recipients with the following inclusions:
Macquarie University will provide financial assistance plus more for the students.
Eligibility Requirements for the Macquarie University Sports Scholarship
Moreover, applicants must meet the following criteria below to be eligible to apply for this scholarship program.
Applications for the scholarship program are open to both domestic and international students
Applicants have to enroll in undergraduate degree coursework at the university
You are an athlete or artistic performer whose study performance has been affected within the last two years due to sporting or performance activities.
How to Apply
Meanwhile, you can follow the step-by-step guide below to apply for the Macquarie University Sports Scholarship.
To begin with, students should take admitted to the bachelor's degree program at the university via an online or offline application form submitted to Macquarie University Macquarie International Building E3A, Level 1 North Ryde NSW 2109 Australia.
Moreover, you must attach your academic qualifications and credit for previous studies. Furthermore, to apply for an undergraduate program, international students will need to have completed one or more of the following academic qualifications:
A recognized senior secondary school qualification or university entrance examination, such as the New South Wales Higher School Certificate (NSW HSC) or other equivalent Australian or overseas high school qualification
A recognized university Foundation course
A recognized 2 or 3-year Diploma, Advanced Diploma, or Associate Degree
Official Website
In conclusion, please refer to the official website of the scholarship provider using the link below for more detailed information on the eligibility requirements and application instructions for the Macquarie University Sports Scholarship program.